The NoBrella® Flower Vase
The NoBrella® Flower Vase provides a unique and innovative way to
decorate your patio table's umbrella hole.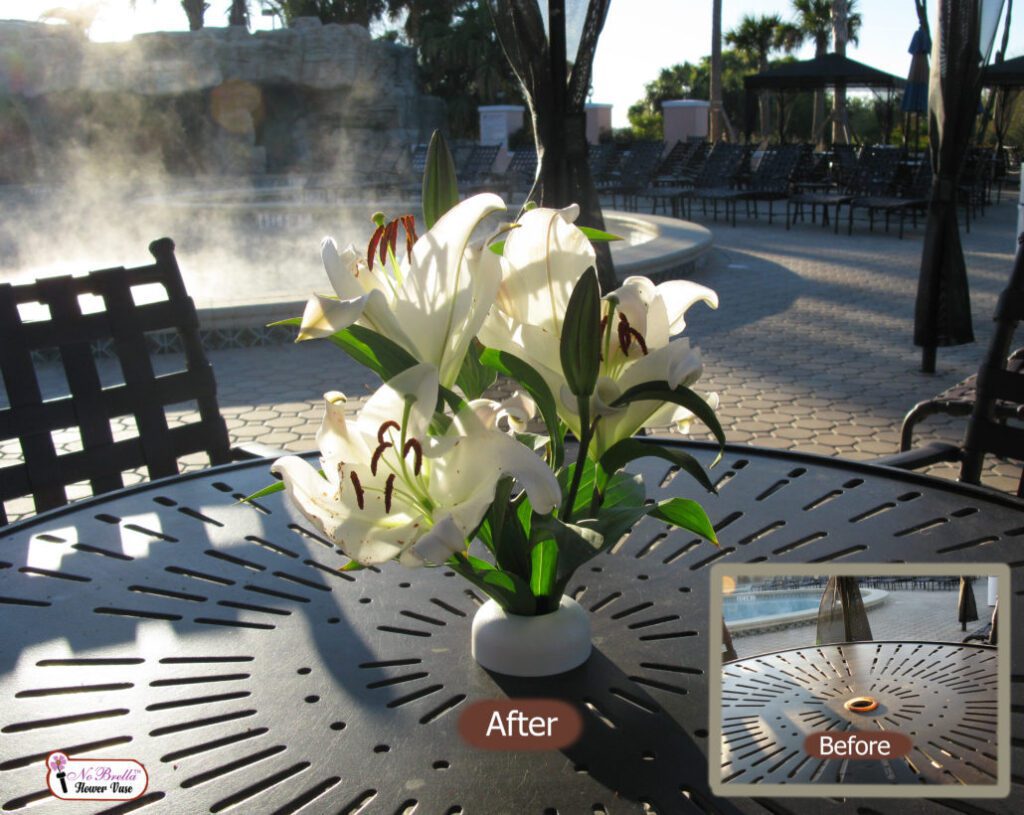 The NoBrella® fits in your patio table's empty umbrella hole ring set allowing you to create beautiful floral arrangements the whole family can enjoy.
After witnessing the amazing transformation that happens once you place the NoBrella in your patio table's umbrella hole you will never look at a patio table's umbrella hole quite the same way.
The NoBrella fits into your patio table's empty umbrella hole ring (when you are not using an umbrella, hence The "No" "Brella") and allows you to display your favorite fresh cut or artificial flowers.
Providing a low profile and easy to handle flower vase, The NoBrella allows everybody to create beautiful floral arrangements with ease.
Often times when you use a flower vase on your patio table it is too bulky and gets in the way or can be easily knocked over by actvity on the table or the wind.
The unique patented design of the NoBrella allows the stems of the flowers to sit below the surface of the table so that the flowers do not block your view across the table. This allows you to enjoy both your flowers and your guests at the same time.
And for the gardeners out there that are blessed with a green thumb and have lots of flowers around the house, The NoBrella provides a great way for you to bring your flowers from the garden to the table and let your family enjoy them close up.
"Our favorite time of year is when we start using the flowers from our own garden!"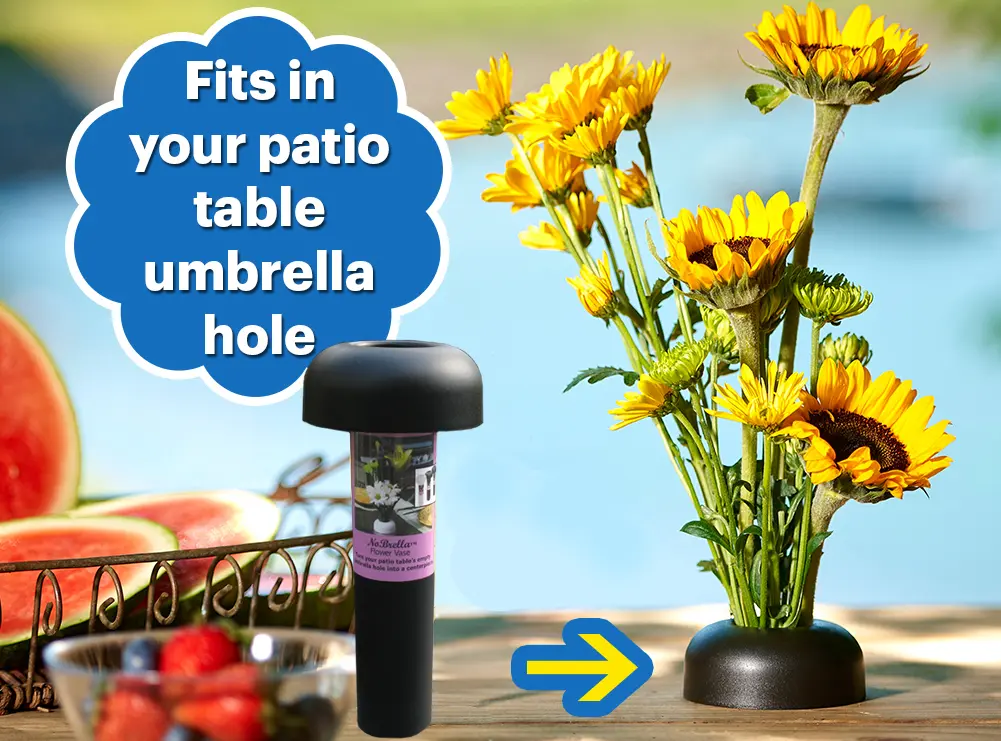 The NoBrella® provides a convenient way to display your favorite fresh cut or artificial flowers
Getting the most out of your NoBrella Flower Vase:
Don't overdo it. The best part is, it does not take a lot of flowers to create a stunning centerpiece with the NoBrella® Flower Vase. The first words of advice are-Don't overdo it! Really… make sure you keep this in mind as you create your arrangements. A typical bouquet of flowers from the supermarket or flower shop will most likely be more than enough for the NoBrella. We typically fill 2-3 NoBrella's using only one bundle of flowers.
Cut your flowers to size. Once you have chosen your flowers, you will want to trim the flowers to a good length for the NoBrella and the table. Cutting them to a max height of 17″ and a minimum height of 9″ is typically best. We like to create an arrangement with at least 3 heights, so we use a 3rd cut size of about 13″ to get started, so start by cutting your flowers into lengths of 9″, 13″ and 17″. If you are using artificial flowers, you can usually bend the stem rather than cut them to make them different lengths.
Create your centerpiece. Once your flowers are cut to size, one by one, place your flowers in the NoBrella. Start with a shorter cut and then add a longer cut and then fill with a middle cut. Fine-tune as needed as you go along. At this point, you may want to remove a few of the leaves from the stems that may be crowding up at the base. Continue to add flowers to your liking if required, but you might be happy there. The rule of thumb is if you add something, and it does not "make it look better" remove it and try it again or don't use it. Making small changes to the position or height of your flowers can make big differences so don't be afraid to make adjustments as per your liking.
Keep it simple. Again, simple arrangements will always look better than an overcrowded bundle of flowers with no room between the flowers. We find that oftentimes just one flower can be enough for some settings. In this case, we would recommend that you push a paper towel down around the stem of the flower to get the flower to stand exactly how you want it.
Have fun and be creative. The goal is to enjoy and have fun and let your creative juices flow. A visit to the store for a few seasonal decorations can help during the holidays to add a little touch of holiday spirit to your arrangements.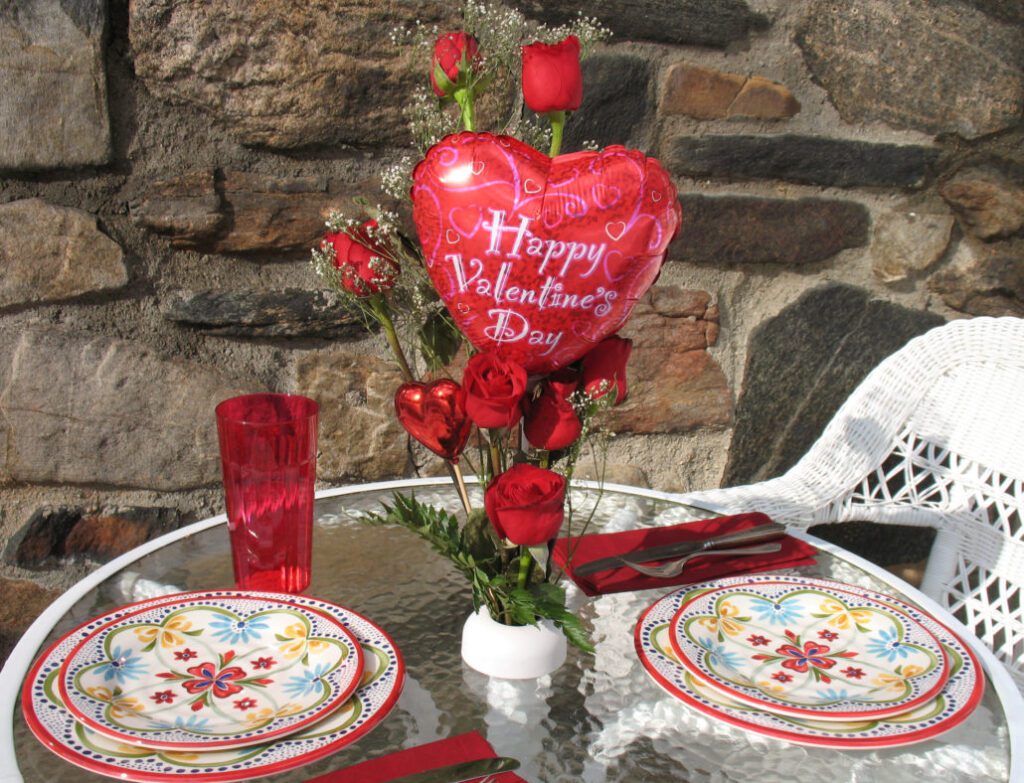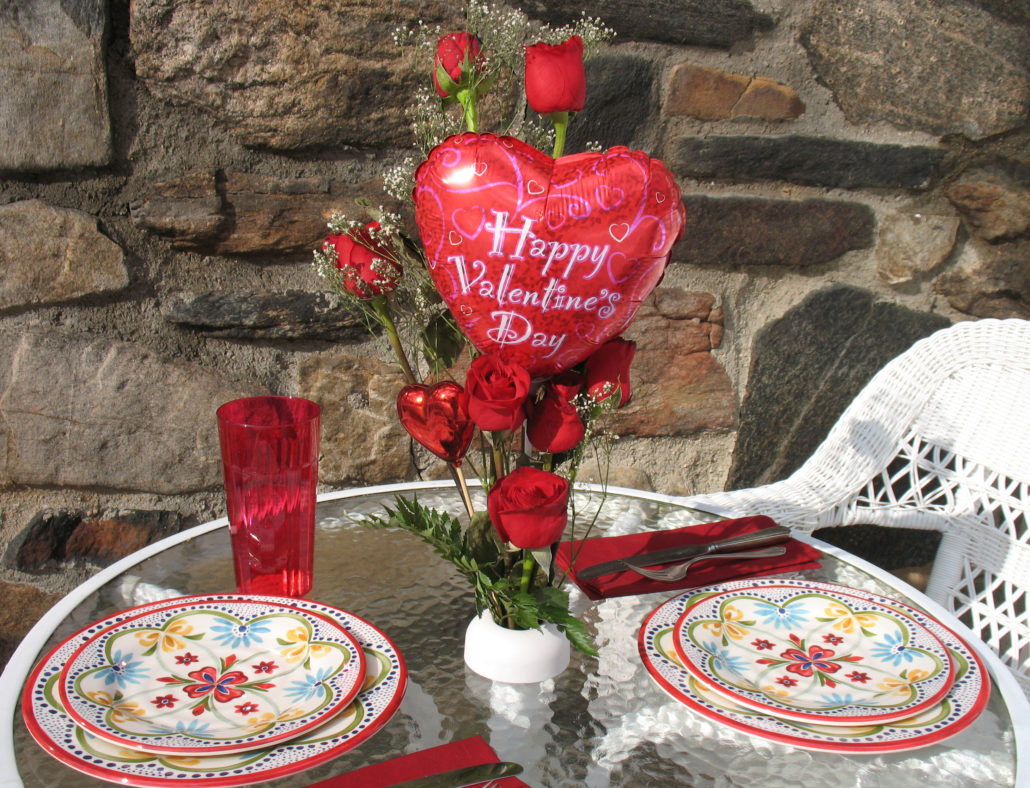 The NoBrella® flower Vase makes it easy and fun to decorate your patio table's umbrella hole for the holidays
For more information:
For more information or to purchase The NoBrella® Flower Vase please visit www.GiftsbyKaz.com