Great gift idea for under $10- The Woodsman's Weather Stick
Are you looking for a gift that will leave a lasting impression, come from the heart, be well received and provide years of fun and conversation? All for under $10
Well then you need a stick. That's right. I said it, and I really mean it, too. We love our Woodsman's Weather Stick and give them as gifts all the time. Perfect for the porch, patio, and garden. Every camp and cabin should have one too.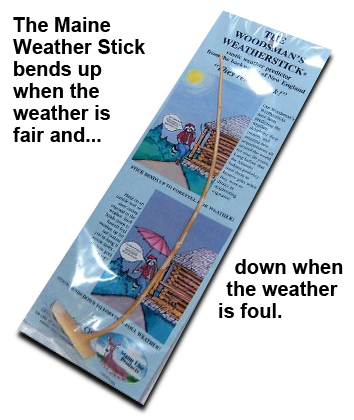 The Woodman's Weather Stick has the uncanny ability to predict the weather. Fun for your home and garden the Weather stick is a great conversation piece everywhere you hang it….. and it really works.
It willl point down when wet and rainy weather is coming and will bend up when the sun is going to shine.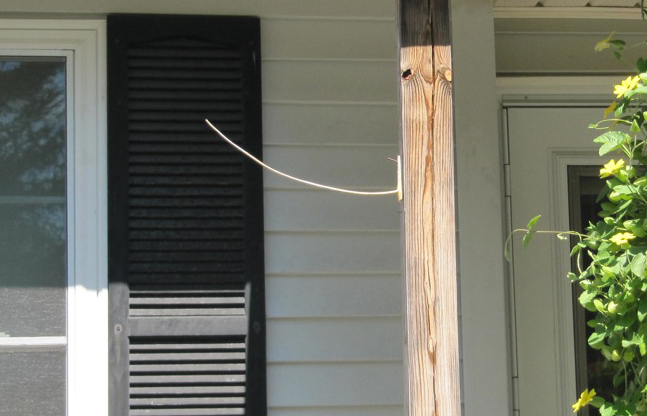 Everyone loves to check the weather with the Woodsman's Weather Stick. Great entertainment for all ages making the Weatherstick the perfect gift idea for everybody.
Made from the branches of the Balsam Fir Trees, the Maine Weather Stick duplicates a natural phenomenon which, it is said, the Abenaki Indians were among the first to notice. The branches of the Balsam Fir would curl down when bad weather approached and would bend up when the skies cleared.
So how does the weather stick work?
That's actually a pretty good question. There have been many studies done on how it works and the best we can tell is it comes down to the way the Balsam Fir reacts to relative humidity.
Getting a little more technical, the cells on the bottom side of the branch form slightly different from the cells on the top side of the branch due to the tree's natural growth patterns. The cells on the bottom of the branch tend to be more in compression from supporting the weight of the branches. When the relative humidity rises (which typically happens right before a rainstorm), the compression cells tend to react differently than the normal cells. That is what causes the Weather Stick to bend up and down.
What else can we tell you?
It is a fun way to predict the weather and spend time with family and friends. It is a sustainable product and 100% recyclable (can be used as kindling in an emergency) This is a product of the USA and is farmed and packaged in Maine. Thanks for your support!
Please feel free to share your feedback and stories with us. We always love the hear how your weather stick is performing. (It's great when we hear how it out predicts your weatherman)
If you are looking for gift ideas under $40 check out the made in Maine Garden HOD